---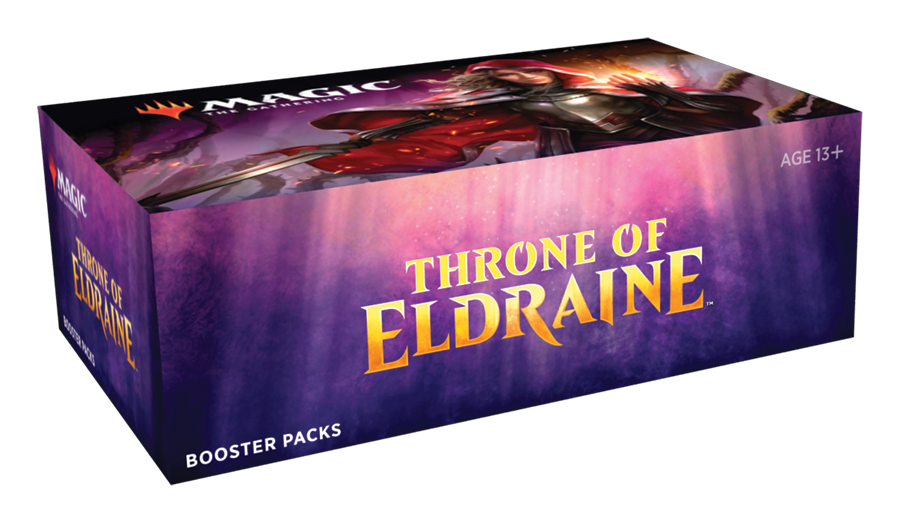 Throne of Eldraine Booster Box & Buy a Box Foil
---
Release Date 4th October 2019
(Pre Orders can be picked up at the Throne of Eldraine Pre Release on Friday 27th September) 
see www.mtgtauranga.co.nz for all Pre Release infomation & events
Pre Order & Pay for a Booster Box until Thursday 26th September for $165.00 While Stocks Last you will also not only get a Buy a Box Promo Foil but for a limited time (and while limited stocks last) a Collectors Booster FREE...... 
NOTE: Promo Foils & other gifts only apply to in-store purchases.
Description: 
Throne of Eldraine makes opening boosters a greater thrill than ever. They're loaded with beautiful and collectible new card treatments:
Borderless Planeswalkers. This is a planeswalker card where the art goes all the way to the border. (similar to Mythic Editionplaneswalkers).
Extended art frames. This is where the art on a card runs all the way to the edge of the card on the left and right side (similar to box toppers for Ultimate Masters).
Showcase frames. Cards with a new stylized art and frames that play into the set's theme. 
Contents.
Each Booster Box contains 36x 15 card Boosters & while stocks last a Promo Foil. Note: Buy a Box Foil only applies to in-store purchases as per Hasbro's terms of trade and while stocks last.