---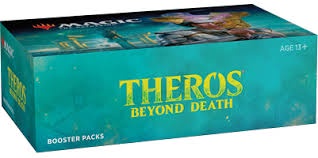 Theros Beyond Death Booster Box & Buy a Box
---
Release Date 24th January 2020
(Pre Orders can be picked up at the Throne of Eldraine Pre Release on Friday 17th Jan 2020) 
see www.mtgtauranga.co.nz for all Pre Release infomation & events
NOTE: Pre Paid Order price $150.00 is only available (In-Store Only) until Friday 10th January 2020 then will revert back to our normal Box prive of $180.00  
Theros Beyond Death Draft Booster Display
Description: 
Draft Boosters are the backbone of Magic. They're the basis of Limited formats like Booster Draft and Sealed Deck, and they're great for players looking to build a unique collection of cards for Constructed formats. New and experienced players alike enjoy tearing into a Draft Booster to discover which new cards they'll add to their decks.
Contents: 
Each Booster Box contains 36x 15 card Boosters & while stocks last a Promo Foil. 

Note:

 Buy a Box Foil only applies to in-store purchases as per Hasbro's terms of trade and while stocks last.